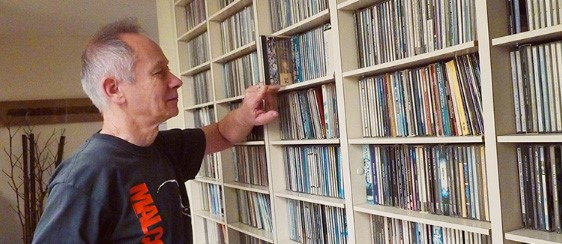 ピーター・バラカン (Peter Barakan)
1951年8月20日ロンドン生まれ
1973年、ロンドン大学日本語学科卒業
1974年、来日、シンコー・ミュージック国際部入社、著作権関係の仕事に従事。
1980年、同退社
• このころから執筆活動、ラジオ番組への出演などを開始、また1980年から1986年までイエロー・マジック・オーケストラ、後に個々のメンバーの海外コーディネーションを担当。
1984年、TBS-TV「ザ・ポッパーズMTV」というミュージック・ヴィデオ番組の司会を担当、以降3年半続く。
1988年、10月からTBS-TV で「CBSドキュメント」(アメリカCBS制作番組60 Minutesを主な素材とする、社会問題を扱ったドキュメンタリー番組)の司会を担当。音楽番組以外では初めてのレギュラー番組。 2010年4月からTBS系列のニュース専門チャンネル「ニュースバード」に移籍、番組名も「CBS 60ミニッツ」に変更。 2014年3月終了。

1986年から完全に独立し、放送番組の制作、出演を中心に活動中。
現在担当の番組や著書に関してはそれぞれのページをご参照ください。
---
Peter Barakan
Born August 20th 1951 in London, England.
Graduated from Japanese department, School of Oriental and African Studies, University of London, 1973.

Moved to Japan in 1974, to work at Shinko Music publishing company, in International Department, remaining at the company until 1980, when, having begun to appear on FM radio shows and write record reviews, left to work for the management company of Yellow Magic Orchestra, which afforded more freedom to pursue personal interests.

In spring of 1984 began to host a music video programme on TV, since when focus of career has been on broadcasting. After several years working exclusively in music, was asked in autumn 1988 to co-host the Japanese broadcast of the American news magazine show "60 Minutes", and continued to present the programme until 2014.

Created and hosted "Bay City Blues," a 'graveyard shift' radio show featuring music from the entire spectrum of the African diaspora, for Bay FM, from the station's inception in 1989 till 1996.

Seamlessly, in April 1996, when InterFM was born, took on a weekly 2-hour free-form show called "Barakan Beat," which, despite the odd hiatus, still soldiers on.
Also presented a breakfast show for the same station for a total of four years in two sessions, and for an ill-starred period of 22 months ending in June 2014 served as head of programming.

Also during this period was awarded the Galaxy Award for best radio DJ for the year 2013, in recognition of passion for broadcasting music of a diverse nature.

In 2003 was invited to host "Weekend Japanology," a weekly programme created by NHK World TV, highlighting a particular facet of Japanese culture each time, and presented in English for foreign broadcast. The format subsequently changed slightly, becoming "Begin Japanology," and from 2014 "Japanology Plus."

I continue to create and present music programmes on radio, and have published a number of books, including a beginner's guide to soul music, a memoir of my experiences in radio, and a guide to English pronunciation for Japanese people.